Here is a quick glimpse of our studio space transformed for a product photography shoot. We shot with our RED Epic Dragon and Motion Control Rig to capture multi-pass sequences for compositing of the final footage.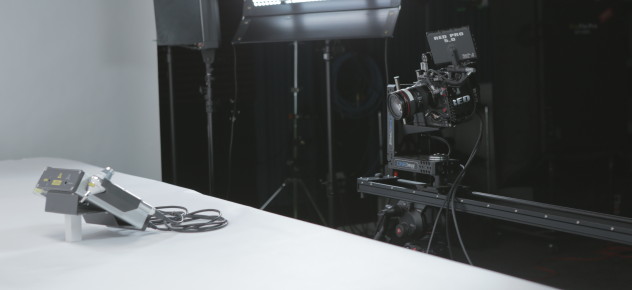 We designed our 1,200 studio to fit the needs of videographers and photographers alike, outfitted with professional lighting and sound stage in a facility that caters to small-to-medium sized productions.
Get more info about our green screen studio rental for Denver and our excellent rental rates on our studio page, or give us a call and talk to a real live human being at 303-495-5003.
Video studio rental Denver – lounge are at the studio
Pictured above is the lounge space for the crew / clients to watch the production. We have a color-acurate monitor as well for the rest of the team to supervise the shoot so that all is seamless and quick.
The makeup room / changing room is available for all productions and allows the talent to prep away from the production area. Its always great to have a space for your talent to re-charge and stay focused without being involved in sometimes hectic production setups.
Oprah Network video production at Manmade Media Studio
Above is a quick look at a recent shoot at Manmade Media Studio by Oprah Network's crew for the show "Unfaithful". The team gained quicker than usual setup through our turn-key approach. The shoot ended up being quicker and less hectic making it easier on the crew and talent.
Contact Us today to learn more about our green screen studio rental for Denver.