Denver video studio rentals, and more…
Located right next to hot new Denver development Stanley Marketplace in Stapleton, Manmade Media's fully equipped green screen video studio has a personal atmosphere designed for small to medium video productions, and is a perfect solution for your sit down interview! Our entire stage is outfitted top to bottom with professional sound foam, which makes it one of the only spaces in Denver to offer great sound for all of your productions!
We have been a perfect choice for Lockheed Martin, Warner Bros., Oprah Network (green screen reality show interviews), Western Union and Colorado Symphony Orchestra's Corporate videos, as well as numerous music groups, marketing campaigns and broadcast spots, and we look forward to providing a great video studio experience to your production!
Some of our studio highlights include:
• 24ft wide x 16ft deep x 10ft tall green screen cyc (can be painted to any color)
• RED Epic Dragon 6k camera and select cinema lenses
• Wide array of seamless backdrops for quick setup
• KINOFLO light grid system ready to go in minutes for most green screen productions
• HD color accurate monitor
• Dolly track system
• 10ft jib
• On-site teleprompter
• Motion Control system
• Quiet air conditioning
• Meeting space and makeup room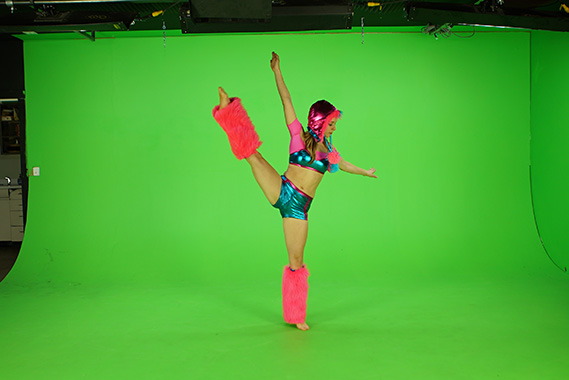 There are ample places for lunch or dinner, hotel accommodations near by, easy access to Denver International Airport and Downtown Denver, quiet air conditioning, and as one of our clients would say, Fanatical Customer Support!
We have provided our Denver video studio rental for companies such as Canon Medical Division, Oprah Network, Pixar Animation Studios, DaVita, Colorado Symphony Orchestra, Western Union, and more. If they found efficiency in our studio, you may too.
Our Denver video studio rental space that has been designed to allow you maximum creative process, by building all aspects to be available for your quick adjustment. Flip a switch, and our Denver green screen studio is perfectly lit, ready for your talent to take stage and do what they do best.
And just to make things more convenient, we also provide state of the art image acquisition camera such as RED EPIC Dragon. Just think of what can be accomplished with a small team of video fanatics that eat, sleep and breathe production.
Our hourly rentals start at $80 per hour for pre-lit Denver studio sound stage. We offer basic video studio rental and all inclusive packages featuring full lighting setup, teleprompter, makeup, audio, 6k RED Epic Dragon camera, dolly, and small and nimble crews ranging from sound engineers, grip, DP, and makeup artists.
Students with a valid ID receive 40% off studio and lighting rental. That's because we believe that allowing the new generation to successfully build up their portfolio is the key to growing Denver's production capabilities!
To request our current rate card, or for any other questions about our video studio in Denver, Contact us at 303.495.5003.